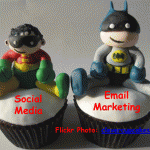 It's Rockin' Digital Mania! ! DJ Waldow of Waldow Social likens the pairing of Email and Social Media to Batman & Robin for driving Social Engagement. Consider Email's Batman – big, tough, overpowering email that stomps its way into your inbox, cell phone, tablet in such a way that you can't help but pay attention.  While its sidekick, Social Robin, is off in the distance drawing power from email connections to grow its own presence.
Waldow expertly illustrates how the two work together, side-by-side, to grow presence for brands.  And just like the original dynamic duo, they are stronger as a team than as individual players in the communications sphere. Using data from The Magill Report on Email ROI, Waldow asks us to consider that Email marketing generates an average of $40.56 for every dollar spent versus Search ($22.24), Internet Display ($19.72 and Social networking ($12.71).*  When you begin to monetize the interactions it becomes clear that Email's ROI potential is being wantonly overlooked.
Probably the greatest thought I pulled out of this lesson is so surprisingly simple yet oft times ignored in our quest to "engage" with customers.  Waldow reminds us that every social media activity requires an email to sign-up for the service.  Regardless of your social path, the price of admission is an active cyber-space address where you will interact on a regular basis!  So why wouldn't you integrate an email program into your 2012 marketing communications?
Consider that as digital creatures we check our email first thing in the morning and continuously throughout the day.  It's acceptable to stay current at the office with email but perusing Facebook during office hours might be a major social no-no. Consider that for the 800 Million Facebook users, there were still more than 110 Trillion emails sent last year.  Critics are quick to point out that 71% of those are spam so-o-o-o do the math and you come up with only 319 BILLION legitimate Emails.
Let's personalize the concept. Think about the "share" function on Facebook.  You find a picture that you think is funny and you "share" it on your wall.  The average person has about 130 Facebook friends. Depending on the time of day or engagement of the photo, you might attract a dozen comments and perhaps a few shares. Now take the same picture embedded in an email and send to a dozen friends.  They in turn send to another dozen. Within a few hours (or days) that picture can travel to thousands of people.
Sometimes we get so caught up with what's "new" in our marketing strategies that we forget to keep the "tried and true." It's time to dust off those email strategies and start using them to drive the social media train.  Hurry, Robin, to the Bat Cave! There's not a moment to lose!
Sources:
Email + Social Media: A Killer Combination. Marketing Profs University Social Media Fast Track,
Waldow Social, D.J. Waldow
*The Magill Report: Email Marketing ROI