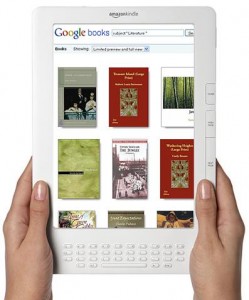 EBooks continue to grow, boasting 115.8 percent Year over Year sales growth, or $32.4 million to $69.9 million, for January (2010) to January (2011).  Just a few weeks ago however, HarperCollins Publishing announced it's e-book titles will expire after 26 check outs, according to Library Journal.
Late last April, 5 of the 6 major book publishers: Macmillan, Hachette, Simon & Schuster, Penguin, and HarperCollins followed the agency model for selling e-books, but as of late February of this year Random House also switched from the retail model to join the agency model.  In the agency model publishers set prices and keep 70 percent of sales, while digital booksellers keep 30 percent of sales.
"This is a very hot topic among libraries," said Michael T. Peltier, communications coordinator for Cuyahoga County Public Library.  "I just finished reading Library Journal's Hotline newsletter, which featured comments from HarperCollins and OverDrive… [and] the newsletter noted that several library consortia have voted to boycott the publisher."
EBook policies for the most part were developed 10 years ago during a time of lesser e-readership. E-reading devices are approaching 40 million this year, according to an open letter to librarians written by Josh Marwell, president of sales for HarperCollins Publishing.  Since HarperCollins follows the agency model, prices will be variable on the 26 check out expiration.  For example, if a paperback cost $9.99 HarperCollins charges 20 percent off list price, making a per circulation fee of $0.30; ($9.99 – (20 percent))/26).  HarperCollins furthers its e-book savings perspective by mentioning that the physical costs of maintaining books would no longer be required.
Outraged librarians learned of Harper Collins decision to lend eBooks with the 26 day limit (which began March 7) from Steve Potash, CEO of OverDrive.  Librarians believe this new policy will build the eBook market for publishers minimizing the role of libraries in public literacy.
"Regarding Cuyahoga County Public Library, we have not weighed in on this matter," Peltier said.  "While it will affect our system, our collection team will need to plan accordingly to any new policies from publishers."
Back in January, Capstone Media published a piece in this blog on "eBooks with Antennas – Tracking Purchases or You?"  Each eBook purchaser has different privacy settings and platforms for delivering e-book content.  Other e-book publishers have not yet set limits for check outs where library patrons use e-media.
Macmillan changed to the agency model because readers were complaining about limited available e-book titles.  Pricing will mostly be between $14.99 to $12.99 with New York Times hardcover bestsellers priced at $12.99 or lower.  E-book paperback new releases will be under $10, according to Macmillan CEO John Sargent.
"With the exception of those libraries boycotting HarperCollins, I think that most will attempt to meet the needs of their patrons while keeping within their budgets for e-media," Peltier said.  "As far as our library programs that promote e-books, any changes in e-media delivery will be incorporated into the instructors' repertoire."
Librarians are some of the most web savvy book professionals; tweeting, blogging, and spreading their "e-disagreements."  In a phone interview Potash said the HarperCollins e-book catalog has been re moved from OverDrive's Library Marketplace, as libraries learn to understand these licensing changes.  "The American Library Association is examining this issue, so we'll see what they have to say," Peltier said.  Libraries will have to purchase e-book titles more frequently if other publishers decide to follow HarperCollins' decision.  Whether savings will occur in the long run is yet to be determined, but e-book titles are cheaper than physical books and repurchasing expired titles will also be discounted and marked at paperback prices.
RELATED BLOG
"eBooks with Antennas-Tracking Purchases or You".  Capstone Media.  January 11, 2011.
ABOUT:  OverDrive founded in 1986 in Cleveland, Ohio, started as a digital content provider of interactive diskettes and CD-ROMs and now is a digital distributor of eBooks and audio books.  They also distribute music and videos using DRM protection.  Thousands of libraries, schools, and retailers buy through OverDrive, which has been named to the "EContent 100″ as a company that matters in the digital content industry.