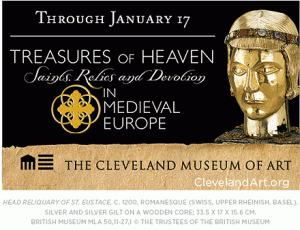 On August 21, 2010 Capstone Media published a blog on how the Cleveland Art Museum used QR Code to promote their new galleries.  Since admission at the Cleveland Art Museum is free, the QR campaign sought to increase attendance.
"We really had nothing to "sell" at the time we were running this campaign," says Cindy Fink, director of marketing and communications for the Cleveland Museum of Art, "As we are a free museum and the QR campaign was promoting the opening of our new galleries (which are free to visit)."  "We didn't put in a coupon or something that would help us gauge whether someone viewing the landing pages from the QR scans then visited."
The museum said QR code is used as an extension, a mobile version of the museum's website, digitally providing art enthusiasts another avenue to see the galleries; that's something they couldn't do with traditional advertising.
QR code or Quick Response is a 2 dimensional matrix created for tracking vehicle parts in manufacturing and has been recently recognized by marketers as an effective way for tracking response rates and relation with ROI.  There are many free QR code generators including Google's Zxing, Kaywa, Delivr and others.  Using QR code in marketing allows you to include more interactive information and multimedia, adds another tool to your integrated marketing mix.
"It was part of an overall integrated marketing plan with traditional and new media, all designed to drive attendance to the new galleries," says Fink.  "We were pleased overall with attendance this summer to our new galleries."
The art museum uses the SPSS Predictive Analytics software suite by IBM for tracking and understanding how visitors learn about the museum in house.  This data is used to develop future marketing campaigns including QR code.
While more consumers currently own a feature phone (that cannot scan QR code), the increase in sales of smartphones that can scan QR code, are expected to surpass feature phones by the Q4 of 2011, according to a Nielsen projections.  With current smartphone penetration of nearly 35 percent, smartphone sales have seen a 25 percent growth since Q2 of 2008.  Still, feature phone options do exist in the form of a Jag Tag.
With smartphone sales growth projections, expect more future QR campaigns, including at the art museum
"I would use QR codes again in a marketing effort – I think they bridge traditional advertising and new digital communications in a fresh way," says Fink, "That allows us to ultimately track and interact with consumers seeing our marketing messages."
QR code, as with any social media tool for marketing, provides mobile extensions of your marketing strategies; they further give smartphone users the ability to share your content with their friends and family, and to give consumers an opportunity to learn more about your campaign before they respond.
CORRECTIONS:  The original title "QR Campaign at Cleveland Art Museum Draws Attendance" published December 15, 2010, was revised December 17, 2010 to "QR Complements Campaign at Cleveland Art Museum to Draw Attendance" because the Cleveland Art Museum's entire campaign uses online display advertising and SEO, kiosks, billboards, print advertising in a variety of publications, posters and fliers around town, publicity efforts, and QR Code.
RELATE BLOGS
"Cleveland Art Museum QR Code Shawabtys and Cista Handles".  Capstone Media.  August 21, 2010.
ABOUT:   SPSS Data Collection Suite by IBM, is a computer program also known as Predictive Analytics Software (PASW).  SPSS was acquired by IBM in July 2009 for $1.2 billion.  Early this year (January 2010) it became "SPSS an IBM Company."  SPSS stands for Statistical Package for the Social Sciences, produces proprietary file format (.spv to support pivot tables).  The statistical data suite products are for track attitudinal and consumer preferences in decision making for measuring campaigns.