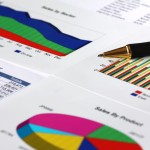 A solid understanding of your corporate structure and relative target markets by industry, customer type and geography can be the "make-or-break" of a good marketing program. Hyper-targeting by knowing how, when and where to target media messages eliminates wasted investments and delivers cost-efficient solutions. Types of Targeting Research include:
AIMSM Report
AIM Reports build on your marketing communications plan by incorporating appropriate secondary research to substantiate marketing recommendations. This report addresses questions such as, "What does your industry look like? What new evolving trends will impact your business? What are your key windows of marketing opportunity?" This report is a basic building block for the marketing plan.
Competitive Opportunity Tracking
Industry intelligence is invaluable in determining your competitive marketing position and strategy deployment. Research is culled from Kantar Media – a leading supplier of global marketing research and business intelligence.
CapShotsSM
CapShots are geo-targeted snapshots of your retail trading zone. Where does your company reside and where are your customers? By identifying your target geography, Capstone Media is able to identify those geo-targeted opportunities that present the greatest return for your dollar.