"Is Your E-Book Reading Up On You?" as reported on NPR last week, as customers purchase and unwrap their e-Books such as Amazon's kindle, Apple iPad, B&N Nook, Sony Reader, FBReader and others your purchase and reading behavior can be tracked.
"E-readers log the users' books, pages, length of time and reading behavior," says Cindy Cohn, legal director for the non-profit Electronic Frontier Foundation (EFF) in an NPR interview.  Cohn compiled a privacy policy e-book buyer's guide, where she could find privacy policies using 8 e-book platform/products.
Each has their own e-book standard, each with their own e-reader, location of purchase, and privacy policies.
1.  Google Books
In the past 10 years books have gone digital.  Google Books is a digital online storage location containing millions of books, where you can shop for your books.  You can read on your laptop and mobile devices with an Internet connection.
Google ebooks sync your books with devices, so you can pick up where you left off.  As an example, should you purchase "The Gift" by James Patterson (listed at $9.99) you can access it from Google Android,iPhone/iPad/iTouch for the Web as well as Nook and Sony.
Privacy. Searches are only stored when users are logged in to any Google online service.  As an example if you are logged into Gmail and you search a book title your search will be stored; if you are not logged in, then associate searches will not be stored.  Specific book and pages viewed on a website are tracked.  Annotations may also be tracked.  Since Google Books are accessed through an online "digital library" rather than an e-reading device downloads are only available through Google's web interface.  All book purchases with Google and other sources are tracked through the user's Google Account.  Information can be shared with law enforcement, civil litigations and among Google's other products.  Users however, must opt-in to allow information to be shared with third parties.  Users of Google Books can delete book titles and search history, but reading such titles may no longer be available.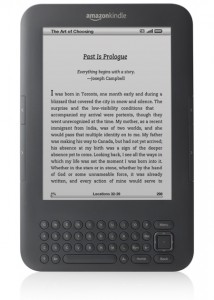 Kindle is a wireless e-reader, 1/3 of an inch thick, holding 3,500 books and a month of battery charge.  With 3G wireless you can purchase books in 100 countries and utilizing electronic ink display, make the pages look like book pages.
Titles can be purchased or in some instances, free.  Amazon releases an e-book bestsellers list of 100 titles periodically, both paid and free titles, including the free title A Christmas Carol by Charles Dickens, which beat the "Oprah effect" book club list expectations.
A Christmas Carol by Charles Dickens currently ranks #6 on Kindle's free e-book download.
In an interview with Charlie Rose, Jeff Bezos, CEO & Founder of Amazon.com stated that the Kindle e-reader is a small part of Amazon's larger retail business model.  The marketing plan is long term with little return expected within the first 5 years after introduction.  Kindle compliments Amazon's other products.  "Kindle is a very different product," says Bezos.  "Amazon does a good job for me so I'll try this Kindle."
Last July (2009) Amazon bought Zappos for 10 million sharesof Amazon common stock worth $807 million, plus $40 million in cash and restricted stock for Zappos employees. Zappos is an online retailer of shoes and clothing, a company also known to practice ad retargeting.
Privacy. Product views and/or searches from Kindle are logged.  To conduct searches within the book requires login.  It is unclear as to whether information from searches for books done at third party locations is reported back to Amazon, as their privacy policy does not clearly state it.  As to what a user is reading, Kindle can log books and pages read and may monitor annotations.  For platform or file formats compatible with Kindle, Amazon has their propriety AZW or Amazon Whispernet, their online bookstore with 630,000 titles, which is compatible with iPhones or PC's.  Amazon keeps track of book purchases, but it's not clear if your purchases elsewhere (e.g. Google Books) are tracked.  Amazon can share your information with law enforcement, civil litigants, and among other Amazon products.  For marketing purposes, users may opt-out only for certain promotions.  Users can change their account profile, but Amazon reserves the right to retain purchase history.
Price – $139 with WiFi hotspot.  The $189 3G can download a book within 60 seconds in 100 countries.
3. B&N Nook
Nook Color is an e-reader similar in design but a competitor of Kindle Reader.  While Kindle is a black and white e-reader, Nook is focusing on its color to appeal to children and families and as a platform for illustrated e-books.  The Nook Color is particularly geared toward children's titles, cookbooks, and photography books.
Nook currently has over 2 million titles for download.  While Apple recently introduced over 100 children's titles for iPad and Disney has reached over a million downloads of mobile book apps for Disney characters including Winnie the Pooh and Toy Story.
Privacy. Privacy is unclear.  Searches made on Nook are tracked and B&N does not disclose whether a search is made in an external site if the user is logged in.  Privacy policy keeps the door open for the possibility of searches tracked on other sites.  Most likely reading behavior is not monitored after purchase, but terms remain unclear.  Nook supports popular e-book file extensions including EPUB, PDF from other sources (Adobe DRM or non-DRM), but many Nook features are disabled using these other sources.  Nook does not support Amazon's AZW format.  B&N keeps track of book purchases as they pertain to customer loyalty programs but apparently do not track books obtained elsewhere from the Nook.  Information may be shared and collected through their e-book store such as products, law enforcement and litigants.  Information may also be shared among third parties.  Users may choose to opt-out only for certain promotions and certain analytics used by third parties.  Purchase history cannot be deleted, however users can change their account profiles.
Price – nook color $249, nook $149.
The Sony Reader is an e-reader with a 5" touch screen, two weeks of battery life and storage for up to 1,200 books.  Sony Reader features a read along Reader Store and e-Books available at participating local libraries (since library e-books expire automatically the user does not have to worry about late fees).  The Cuyahoga County Libraryhas a digital media catalog with many free titles.  The Sony Reader and B&N Nook support EPUB and PDF ebooks, the Kindle does not.
The Cuyahoga County Public Library uses OverDrive a company that distributes premium digital content for libraries, schools, publishers, retailers, and enterprises.   Other readers that the library can support through the OverDrive network are B&N Nook and WiFi, B&N NookColor, Kobo eReader, Literati Reader, Pandigital Novel, Apple iPad/iPhone/iPod Touch, Archos 5 Internet Tablet, Cruz Tablet, HTC Droid Eris/HTC G1, LG Ally, Motorola Cliq, Motorola Droid, Samsung Galaxy S, Samsung Intercept and Sony Ericsson Xperia X10 Mini.  The Adobe Epub & PDF eBooks are not compatible with Aluratek Libre eReader, Amazon Kindle/Kindle DX.  The Cuyahoga County Public Library has regular eReader workshops scheduled through next July where users can learn and compare eReaders.
Sony Reader can also access Google Books.
Despite rumors that Kindle has sold millions of units, Sony's Reader Touch although pricier has outsold its Reader Pocket.
Privacy. If users purchase titles from the Reader Store, Sony logs IP address and message information for their online store, but users have to be logged in.  As far as monitoring after purchase, Sony does not log information about how content on the device is viewed.  Sony Reader supports DRM formats including Adobe EPUB but does not support Amazon's AZW format.  Sony tracks purchases from its Reader Store, but users must log in at which time Sony assigns a cookie to track book purchases for licensing purposes.  Sony does not keep track of books obtained elsewhere such as an e-book download from a library.  Sony Reader can share non-aggregated information through law enforcement, litigants, other Sony products and Borders, its Reader Store partner.  For marketing and promotion purposes users may opt in or out, but users must contact Borders.
Price – $149.99 for the Pocket Edition, $229.99 for Touch Edition, $299.99 for Daily Edition.
Amazon Kindle's major competitor, the iPad is an e-reading device that uses an iBooks app available free from the App Store, where users can browse tens of thousands of books from the iBookstore and the New York Timesbestseller lists.  As book titles accrue, users can organize them into group books or PDF's available for download on iPhone and iPod touch.
iPad has a built in word search dictionary using Wikipedia.
There are currently over 150,000 books in the iBookstore using ePub format.  To compete with Nook, iPad has full color for viewing children's books, cookbooks and photography books.  Options also exist where users can listen to an author reading their favorite passage.  The PDF book titles can be synced with MAC or PC or print via AirPrint.  Similar to Google Book options, iPad allows you to auto save and continue where you left off, continue the story or chapter with your iPhone or iPod Touch or bookmark a section.
Privacy. If purchased from iBookstore or other Apple applications, orders or tracked.  After a purchase is made or content is obtained elsewhere, Apple privacy policy states that Apple only obtains unidentifiable information.  Regarding file support, iPad supports ePub and PDF's as well as Amazon's AZW (with additional software).  iPad can also track book purchases elsewhere provided they are searched in iBookstore or through other Apple products.  Information can be shared with law enforcement, civil litigants, Apple service providers, vendors and partners within Apple.  Customers may chose to opt out of certain marketing and custom advertising.  Purchase history cannot be deleted however book titles can be deleted along with losing the ability to read them.
Price – $499 and up.
Depending on delivery and the source of e-book content, the major e-book market players are ready to satisfy users in this quickly growing market.  But beware, they may also be tracking you.