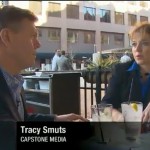 I recently had the opportunity to sit down with Martin Savidge from CNN to discuss the influx of advertising dollars into the Cleveland, Ohio region for the 2012 election.  Local sales reps from TV, Radio & online all agree.  Comments such as ""It's ridiculous.  No one could have predicted this volume." Or from another 20-year vet in the political advertising realm, "This is the largest expenditure of dollars in a short period of time in the history of Cleveland broadcasting. I am working 14 hours days, 7-days a week.  This election has taken a year off of my life for sure."
Trying to find an assessment for the current media blitz is almost impossible as stations are doing triage just to get through it.  They plan to assess it later. The spending in Ohio to date has been reported as 177 million and growing.  But not all cities in Ohio are seeing the same expenditures.
Why Ohio?
Some states can be predicted to swing one way or another. So although they have a strong number of electoral votes they are considered "in the bag' for the preferred party long before Election Day votes have been cast. No so for Ohio. No President has won the election without capturing the state of Ohio for the last 40 years.  Ohio has been described as "the Neapolitan of the United States" with its diverse population swings. The barometer of political choice for the entire country has historically been measured by Ohio
The northern base of cities like Youngstown, Cleveland and Toledo have been shaped for decades by manufacturing, steel and the automotive industry; all three tend to swing to the Democratic party. On the southern end towards Cincinnati, the population is highly conservative and rural with a strong Republican base.  Columbus stands in the middle both geographically and politically with its strong student population and white-collar legislative base.
How much spending?
The amount of money flowing into Cleveland and the state of Ohio is mind boggling at this point.  To date, it is reported that over 177 million dollars in just TV and Cable have been spent in Ohio. Almost one half of those dollars spent just in Cleveland. This year is so tight that expectations are that the week before the campaign all TV, Radio, Cable TV and online options will be totally sold out both with political ad spending and those few local advertisers that have managed to keep their ad programs on the air.
Was this expected?
Actually, no.  Not to this degree.  During the 2008 election when it was clear that Obama would win Ohio, both parties pulled out of Ohio to concentrate their dollars elsewhere.  This election was almost shaping up to be a repeat of 2008.  Then Governor Romney won the first debate by an overwhelming spread.  And Ohio moved from a solid blue to a "maybe blue", and the weeks since, to what is now considered a dead heat.  What does that mean for Ohio?  It means that the advertising blitz, robocalls and endless campaigning aren't going to stop until the last voter walks out of the poll booth on November 6th.
Impact on TV Pricing
Broadcast media pricing is subject to many factors although the most important is the reality of supply and demand.  The less inventory that is available, the higher the costs for that inventory. Consider that just one month ago (September 2012) an advertiser buying TV time in Cleveland, Ohio could purchase a spot in the early or late news for anywhere from $800 to $2,000 per 30 second unit.  A month later, those costs are up as much as 420% with a range from $3,150 to $5,000 depending on the station and the time of day. And prices are projected to continue increasing up to Election Day.
Economic Impact on Local Advertising
As media planners and media buyers we can track the effect of ad spending on a client's business through a variety of methods.  We can measure boots in the door, rings on the phone, peaks in web traffic and increased sales both in store and online.  We can see the spikes in web traffic when ad messages are running. So we know for a fact that when purchased and placed correctly with a compelling and valuable message advertising works.
Both parties talk about small businesses and local economies.  So what is the effect on a local economy when advertising space and time is at a premium?  When local advertisers lose their ability to communicate with their customers?
Those hurt most are seasonal advertisers that depend on advertising during September & October – Colleges & Universities are big losers – they count on being able to market to students & their parents visiting campuses for open houses. Also retailers with winterizing services for cars – tires, oil change, overall inspection. Home improvement – again, preparing for winter – furnace inspection, windows, gutters, roofs. Other advertisers that count on consistent advertising such as Fast Food chains – most owned by local business people – even car dealers suffer.
Interest in the Election by Viewers
There is more interest this election than in 2008. We tracked viewership for Presidential debates which grew with each debate. The last debate ratings, even among younger viewers between 18-24 scored ratings on par with the highest rated primetime TV shows even among younger adults."
Viewing Patterns
In previous election cycles we would see a decrease in HUT levels as we edged closer to the elections. This cycle viewers do not appear to be abandoning TV HOWEVER they don't necessarily have to because in 2012 almost 43% of all households have some type of digital recording device (DVR or TiVo).  Of those that use a DVR about one half of them skip the ads.
Wasted Money
Consider that In the Cleveland market alone, it is expected that almost $100 million dollars will be spent on political advertising in 2012. $100 MILLION DOLLARS. How many charities could benefit from that kind of money?  How many soup kitchens could feed the hungry, how many beds could be provided for the homeless, how much healthcare could be provided for those that have none?  One topic that we NEVER hear the candidates discuss is the massive amounts of money that is being spent – make that wasted – on this election.
We can agree on something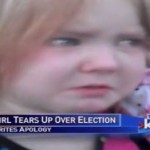 Ask just about anyone in the US and certainly in Cleveland, Ohio how they feel about the number of political ads on TV and you will get a variety of opinions. A viral video aired on Thursday, November 1 that shows a little girl from Colorado crying.  When asked why she is crying, she explains that she is crying because of all the political ads of Bronco Bamma and Mitt Romney.
Those of us in Cleveland, Ohio couldn't agree more.