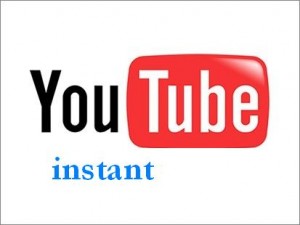 430,000 visitors used YouTube Instant in four days just one day after Google released its Google Instant (9/8/10).
Feross Aboukhadijeh, Stanford University computer science student (class of 2012), built YouTube Instant, and now has a job offer from Chad Hurley, CEO of YouTube.  Predicative searches are based on APIs (application programming interface) the same programming used in Foursquare.
Other predicative search-like individuals have pushed forward on their own, incubating ideas for a Google Maps Instant (Michael Hart), iTunes Instant (Stephen Ou, 15, where Apple thanked him for the idea but no job offer), App Store Instant(Jordan Satok, teen entrepreneur).
Predicative searches have the potential to appear in places like YouTube (owned by Google), Facebook, Twitter, LinkedIn and Wikipedia as a source of the pay-per-click (PPC) model.  Predicative searches work based on popularity, Google Instant has changed SEO, teaching us how to search differently over time.  Initial uncertainty as to what is the desired search and how it relates to customer conversion through PPC programs will provide opportunity for SEO.
There are two main marketing strategies for optimizing SEO.
1.      Increase the number of relevant credible links to your site.
2.      Inclusion of relevant keywords and/or key phrases.
PPC campaigns measure click-through-rates (CTR).  CTR is calculated by the number of clicks on your ad divided by the number of impressions.  In Google Instant, if the user does not keep entering alpha-nuemerics after 3 seconds your ad just got another impression.  Perhaps if predictive search migrates to other sites how an "impression" is defined will affect your CTR score.  Once a visitor has clicked on your ad, you have a conversion possibility.
If predictive search appeared on Facebook, their developers would have to provide a search of organizational and business professional Facebook pages.  A user would not necessarily want to find a person's name in this way since Facebook already provides something similar in their search drop down suggestions randomly.
Predictive search in Facebook would benefit users by strictly searching the professional pages while also getting rid of the personalized ads.  Since Facebook users already socialize with their organizations of choice, ads appearing on professional sites relating to that company or organization would be more relevant.
Facebook would have to look more like a search results page so ads appearing on that page would be relevant for the user searching them.  Advertising on Facebook in this way would be more targeted and site specific.
Next is a Capstone Media recommendation as 2010/2011 model into the new predicative search marketing field.
RELATED BLOGS
"Google Instant and Google's Existing PPC and CPM Models (Part 2 of 4)". Capstone Media, September 14, 2010.
"What is Google Instant? (Part 1 of 4)". Capstone Media, September 13, 2010.
"All are in the Information Business Generating Their Own Search Query Data". Capstone Media, August 9, 2010.
"Time To SEO Goodbye Using YouTube Insight". Capstone Media, October 1, 2010.
FURTHER READING
"Google Creates 'Instant' Celebrities". Jennifer Valentino-DeVries, Wall Street Journal Digits.  September 14, 2010.