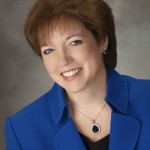 Those who know Tracy well understand that next to the birth of her children and her wedding day, the best moments of her life are her birthday. Tracy makes a regular practice to celebrate her birthday online with her Facebook friends as well as with any live audience she can find.
And yes, she owns not one but three Tiaras which she wears regally in honor of the festivities.
In addition to planning great birthday parties for herself and others, Tracy is a 20+ year veteran in the marketing field and founder of Capstone Media. She is also a specialist in strategic planning and business consulting. Early in her career, Tracy was fortunate enough to train with Leo Burnett and the McDonald's Corporation in Chicago.
Prior to starting Capstone Media, Tracy was employed as Media Director for Glazen Advertising & Media Supervisor with Stern Advertising. Tracy has worked on National and Regional accounts such as McDonald's Restaurants, Cellular One, National City Bank and Sears Brand Central to name only a few.
As part of her involvement with the 16,000 member Council of Smaller Enterprises (COSE) of Northeast Ohio, Tracy is one of several business mentors for the Strategic Business Planning Course. She is a frequent speaker for several associations in the Cleveland area on the topics of marketing, advertising and entrepreneurship.
Tracy is a Presidential Scholar from Gannon University, B.A. Communications, Marketing/Advertising minor
COMMUNITY SERVICE
¨ Mentor, marketing expert & steering committee member – COSE Entrepreneurial Business Development
¨ Board President of Forever Homes Adoption Services
¨ COSE Board of Directors (16,000 Member Companies Northeast Ohio)
¨ Greater Cleveland Partnership Board of Directors
¨ COSE Entrepreneurship Conference Chairman 2001 (1,000+ attendees)
¨ Girl Scout Leader & Lake Erie Girl Scout Council Board Member (14 years)
¨ Technical Team – Cuyahoga Valley Church